A remarkable transformation is taking place in the heart of Creighton University's vibrant campus. At the spot where I-480 and Highway 75 meet at Cuming Street, the CL Werner Center for Health Sciences Education will serve as the new home of the Creighton School of Medicine and a new front door to the west side of the campus. 
New Building Named for Trucking Founder and Honorary Degree-Holder
Creighton reported CL Werner, the founder, retired CEO and current chairman of the board of directors for Werner Enterprises, as saying that the new facility will accelerate Creighton's momentum as "a leader in preparing students for next-generation health care in a team-based environment." 
Tying it back to his company's industry in the trucking business, Werner further stated, "In our business, if you're moving forward, you're on the right track, and Creighton is certainly moving forward."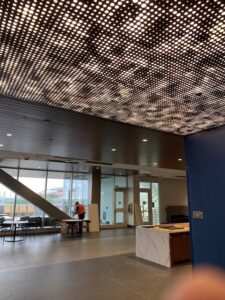 Miller Electric was privileged to provide commercial electrical contracting services on the five-story, 135,000 sq ft building. Looking back, the project was an example of how value engineering, design assistance and collaboration lead to project success. 
Inception and Timeline
Work on the CL Werner project began in March of 2022. The clock was set in motion for an ambitious schedule, aiming to complete work in time for faculty to move in by August 7, 2023, and students to use the facility on August 14. 
Miller Electric Senior Vice President Craig Langfeldt attributes the project finishing on time to the extraordinary teamwork present throughout the job. 
"The job flowed so smoothly," he says. "Everyone had a part, and everyone did their part. Everything was extremely well executed from BIM to prefab to project management, which is a testament to the hard work done on the front end of the project."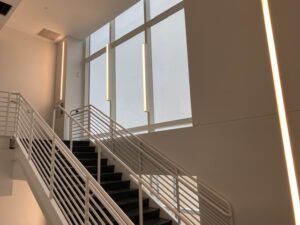 Design Assist and Cost-Effective Solutions
Miller Electric's role extended beyond on-site electrical contracting into pre-project design assist and value engineering work. Before the groundbreaking, the team collaborated closely with Morrissey Engineering, Myers Carlisle and Creighton University. 
"We were heavily involved in the front end in a design assist role," says Langfeldt. "In providing another voice to our project partners to guide the job in the right direction, we value engineered cost items to keep the project within budget, and also looked for opportunities to save time and money." 
One of the opportunities for savings Miller Electric identified was to change the feeders that were 100 amps and above from copper to aluminum. Another was a decision to substitute cast-in-place boxes for poke-through style boxes. Together, those moves and others like them drove cost and time savings, helping keep the project on time and within budget. 
Meticulous Planning and Execution
To seamlessly integrate electrical systems into the structure, Miller Electric invested over 50,000 man-hours, emphasizing precision and efficiency throughout the project.
One standout feature of the building was the skywalk that connected it to Creighton's Criss Complex, which crosses Burt Street. Miller's role as the electrical contractor encompassed various critical tasks, including procuring and installing a medium-voltage switch and transformer, which played a pivotal role in bringing primary power to the building. 
Innovative Solutions in the Face of Challenges
The project posed a significant challenge regarding acquiring a 2,500-amp main switchboard. With an estimated lead time of over 50 weeks, the team realized that a proactive approach was necessary to meet the tight schedule. 
Turning to a local partner, Echo Electric, Miller Electric recommended having Echo locally fabricate a custom switchboard. That action reduced the lead time to just 12 weeks, proving to be a risk that paid off remarkably well. It was also an example of the power of value-engineered solutions and the efficiencies that innovative approaches enable.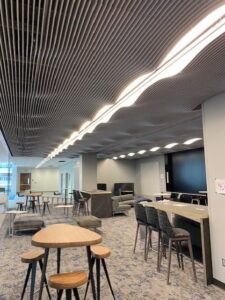 Sustainability Initiatives and Forward-Thinking Solutions
The project also provided an opportunity for Miller Electric to demonstrate its dedication to sustainability by taking up the responsibility of dismantling the existing solar panels on the site. 
These panels, installed decades earlier in a previous project, were removed carefully and given a second life at a Creighton University location in Griswold, IA. The decision to embrace renewable energy solutions led to installing a new, updated solar panel and PV system on the building's roof, showcasing Creighton University's commitment to promoting clean energy. 
A Model of Collaborative Success
The success of the CL Werner Center for Health Sciences Education project can be attributed to the remarkable synergy and collaboration within the Miller Electric team. From the BIM and Prefab departments to the general foreman and assistant project manager, each team member was pivotal in executing the project with utmost precision and dedication. 
While everyone involved in the project performed stellar work, Langfeldt called out the following individuals for particular attention. 
Steve Cook, assistant project manager

 

Adam Elsasser, manpower support

 

Jeremy Fisher, prefabrication operations

 

Don Lloyd, estimating and preconstruction

 

Scott Love and Ken Madison, safety

 

Brian Markel, general foreman

 

Chris Nightser, prefabrication manager

 

Mark Whannel, BIM coordinator

 
Langfeldt also acknowledges the strong and trustful relationship between Miller Electric and Myers Carlisle, saying it created "an environment of open dialogue and shared vision, fostering a spirit of cooperation that permeated every aspect of the project." 
This collaborative approach resulted in efficient decision-making, proactive problem-solving and seamless execution of tasks. 
A Glowing Testimony of Accomplishment
The CL Werner Center for Health Sciences Education project is a testament to Miller's capabilities as a commercial electrical subcontractor. 
Through meticulous planning, innovative solutions and a collaborative spirit, the team wired not just a building but a future filled with possibilities. From embracing sustainability initiatives to delivering cost-effective solutions, Miller Electric showcased its commitment to excellence, leaving a lasting impact on Creighton University's journey to becoming a leader in health sciences education. 
As the horizon beckons with new projects, Miller Electric's legacy of success and dedication to innovation remains steadfast, creating a brighter and more sustainable future for clients and communities alike.