Rotella's Italian Bakery is a true American success story and Miller Electric is proud to be a part of it. Through electrical engineering, low voltage wiring and more, we've been handling Rotella's commercial electrical and low voltage needs for years.
A longstanding Miller Electric customer, Rotella's is a fifth-generation family-owned business that dates back to the 1850s in Calabria, Italy. Today, John Rotella carries on the family's tradition of excellence as its Plant Manager. As such, John acts as the Project Manager for the new oven line Rotella's is installing with Miller Electric and others into a new expansion on the south side of its existing facilities.
The project is complex, and from our perspective, positions Rotella's well to continue to grow and excel for years to come. "Rotella's is investing in their future with the expansion work they are doing on their equipment and facilities," says Brian Reiling, Low Voltage Project Manager for Miller Electric. "Like us, they aren't satisfied with doing just the minimum but want a certified facility that they can grow with an innovate in for years to come."
A New Oven Line With a Lot of Moving Parts
Two years ago, Rotella's built the infrastructure for a new baking line. In the fall of 2017, they were ready to equip it with new ovens, mixers, air compressors, controls, panels and everything needed for a state of the art oven line.
As the bakery's long-time electrical contractor, Miller Electric has built a foundation of trust with Rotella's and proven our ability to tackle any electrical project with insight, speed and care. We were a natural first call for the company when they needed a partner to help bring all the pieces of their complex new oven line together.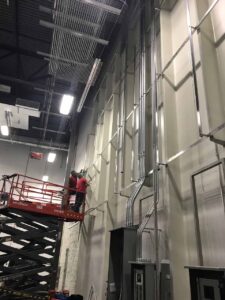 "Many processes make this project atypical. Not all of the equipment is new, so some of the drawings date back to 2006; we're coordinating with a number of companies from different states on this project. One in Texas, for example, builds the ovens, but then it's up to Miller Electric to make all the systems that control the ovens work together. Everything has to be custom built." – Kurt Hamilton, TEGG General Manager for Miller Electric.
Using Electrical Engineering to Craft a Completely Custom Commercial Baking Line
Some of the hardware that would normally be standard in the commercial electrical world, such as pipe racks and panels are different when it comes to commercial baking. For example, Unistrut doesn't work well in a commercial cooking atmosphere because the system produces too much dust. That dust collects on piping racks and creates problems. So, the type of pipe racks and panels being installed here are custom built for a commercial baking environment, which means they produce less dust, are explosion proof, and where necessary, are made from stainless steel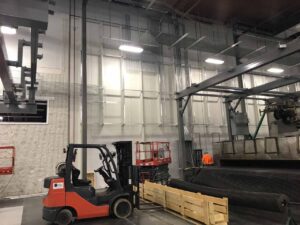 "Since the pieces are custom built, we're constructing the more labor-intensive ones onsite and then we're sending other pieces, like the rods, to our prefab shop where we can create large numbers of galvanized rods with all the accessories already on them so that when they arrive onsite all we have to do is to hang them," says Miller Electric Project Foreman Cory Ainsworth.
This kind of approach speeds up the installation process and reduces potential injuries. "One of the payoffs of installing this new oven line is that Rotella's will be able to produce their products more efficiently," says Hamilton. "We understand the value of efficiency and strive to run all of our electrical and low voltage projects in the same way – as efficiently and safely as possible."
Engineering Efficiency for Rotella's
Efficiency becomes infinitely more challenging to achieve when multiple players are factored in to the equation. Part of what makes this project so complex is not just its specificity to the commercial baking industry, but the fact that there are so many different companies involved.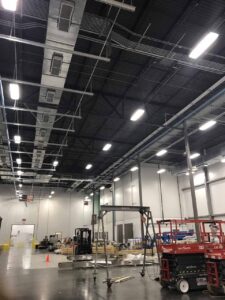 "There is one company installing the conveyor; another outfit building the ovens and proof boxes; then, there's loaders and unloaders; another company building the ingredient system, and the list could go on," says Ainsworth. "Sometimes multiple crews are involved on the same pieces of the project. Our job is to make the project run smoothly, stay in budget and finish on time by helping everyone work together like a well oiled machine."
The ability to bring many moving parts together without disrupting any of them, but rather, organizing workflows and engineering electrical design processes that enable everyone to work to their maximum capacity safely is a skill that Miller Electric has honed over more than 100 years of commercial electrical work. It requires insight, attention to detail and above all, a commitment to putting the customer first. It's also a skill we're happy to have had the privilege of applying throughout the new oven line project.
"John Rotella supplies us with the information about what they want to do and then we figure out what is needed from an electrical engineering perspective to make it happen," says Hamilton. "For example, with their equipment for the new oven line, they would tell us what they want to install and we would design a plan for feeding electricity to that line; that would include the panels, feeders and more. A big part of that plan is the electrical engineering, but another essential element is the collaboration with other trades. Miller Electric excels in this area of project management."
Keeping the Ovens On, Even as New Ones are Built
With all of the work and coordination involved in the new oven line, it's easy to forget about the ongoing maintenance and upgrade needs of Rotella's existing operational facilities. As an electrical contractor filled with commercial electricians who care deeply about our customers,  Miller Electric keeps a close eye on that as well. Ever since we correctly diagnosed a single faulty clip as the cause of numerous blown fuses years ago, we've been keeping the ovens on for Rotella's.
"Everything happening from an electrical service perspective funnels through us," says Hamilton. "We keep up with all the maintenance needs of Rotella's equipment throughout their plant, prioritize needs based on when issues can be fixed since some things can only be done when the equipment is shut down, and keep both the ongoing needs and the demands of the new oven line humming along."
Having one partner capable of managing all of its electrical needs makes it easier for Rotella's to address needs as they arise. When John Rotella noticed facilities team members wasting time and experiencing stress going out to individual machines every time they acted up, he got Miller Electric Low Voltage Manager Brian Reiling involved. Reiling introduced cabling and networking solutions that would enable Rotella's facilities team to log in to a computer from a desk, instantly bring up all the machines online, see which ones were having issues and send team members out to fix the problems in a more efficient manner.
"We've been working with Rotella's for years on the electrical side so it was a natural progression to take on the responsibility of configuring their network," says Reiling. "Now they know exactly what circuits, cables and services feed every part of their plant. We'll save them money because they won't have any downtime and they'll be more productive because they won't waste time figuring out how to get simple things, like installing a phone in the corner of the warehouse, done quickly."
Reiling is proud of Miller Electric's commitment to caring for customers' needs holistically and says it sets Miller apart in the region.
"People are extremely dedicated here. I've worked at other companies where the only thing that mattered was the bottom line. At Miller, the customer is the bottom line. Having one point person to call for all of their electrical, low voltage and service needs and then employing highly skilled and trained experts to meet those needs is how Miller shows that the customer comes first."
What elements do you think are critical for success on commercial construction projects? What's the most unique electrical engineering configuration you've seen created for the unique needs of a particular project? What do you find interesting about commercial baking lines?