Until his passing in 2015, Omaha investment banker and Creighton University graduate and benefactor, Charles Heider, always held his alma mater close to his heart. Even now, his legacy lives on in the continued growth and influence of the Heider College of Business.
Heider believed strongly that the world could benefit from more business leaders educated in the Jesuit tradition of service, and actively sought to support a business college that would graduate leaders dedicated to positively impacting society.
Building Ethical Business Leaders
The University carries forth Heider's passion today with continued enhancements to the Heider College of Business, which Miller Electric was pleased to be involved. Beginning in early 2019 and continuing through the long, pandemic-impacted days of 2020, Miller Electric worked diligently to wire new classrooms, faculty offices, and collaborative and common spaces throughout the College's Harper Center in time to welcome students back for fall classes.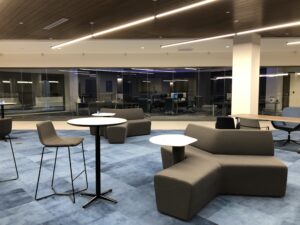 Funded by a gift from the Heider Family Foundation, the $25 million renovation project included wiring, lighting, design build technology and workstation power for numerous spaces, including the following:
Starbucks, Barnes & Noble Bookstore and iJay (Apple Store)
Enrollment Management & Presentation Room
5 new classrooms and 15 faculty offices outfitted with height-adjusted mobile podiums, projectors and screens;
Rooms with white boards, video cameras, microphones and speakers; adaptable furniture and lighting systems
Innovation Labs (Analytical, Digital Content, and Agency Practicum)
St. Peter Faber, SJ Chapel
Notably, the project, which was designed by Tim Holland of Holland Basham Architects, repurposed existing space to increase efficiency without needing to construct new buildings to accommodate the growing College's needs.
"This project at the Heider College of Business is very special," said Scott C. Heider, Director/Trustee of the Heider Family Foundation. "As it will take the learning and teaching environment to a new level. It positions us as one of the premier business colleges anywhere in the country, and that is good for Creighton University and the Omaha community."
Anthony Hendrickson, PhD, dean of the Heider College of Business, said the renovated Harper Center reflects who the college is, both philosophically and academically, describing the new space as somewhere great ideas are formed, and where people and programs combine to make the world better.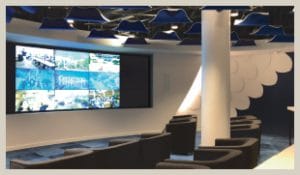 Open for Business
The challenges and curveballs of the coronavirus pandemic couldn't throw progress on the renovations off track. By Labor Day 2020, all second and third floor classrooms were open for students, bringing the total number of available classrooms to 18, all of which are now outfitted with state-of-the-art audio-visual, lighting and communication capabilities. Several rooms have multiple wall monitors capable of mirroring professors' screens and allowing students to connect their devices to share content with the class.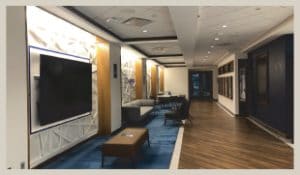 Collaboration space was a major emphasis in the renovation. Of the more than 50 spaces designed for cooperative learning, half are small study areas equipped with tables, seating and monitors where students can gather, safely, to discuss ideas and projects. Other new spaces included common spaces such as study stalls, an analytics lab, a digital content lab, and an agency practicum lab.
Throughout the work, Creighton University Superintendent Scott Kuehler said Miller Electric was an ideal partner to have on the job.
"The employees involved, including Joe Pecha and Jim Baatz, were very knowledgeable, and great people to work with. The crew members they were in charge of were sent home safe every day. We worked long hours, and weekends, to get the third floor classrooms up and running for the start of school. Despite the fact that the project was managed through a pandemic, the crew pushed through and continued to work safely, while delivering a quality product.

"They handled any cases that arose related to the pandemic professionally and with compassion to other workers' health and safety in mind. With that focus, the project was able to stay the course without being shut down to any outbreaks. It was truly an entire team effort between all the trades involved, and excellent communication amongst all, that led to success on this important project. Miller Electric has been a great partner to work with, and we look forward to the next time we can work together on a project."
Miller Electric echoes that sentiment, looking forward to more opportunities for collaboration and innovation on commercial electrical contracting projects that will benefit the Omaha community and strengthen our standing in the world.