If you haven't been to the RiverFront yet, you need to plan a trip to experience the incredible landscape taking shape in downtown Omaha.
Since August of 2020, Miller Electric has been working with the Metropolitan Entertainment and Convention Authority (MECA), Kiewit and specialty lighting subcontractor, MRG, to bring state-of-the-art color-changing lights and speakers to the completely overhauled RiverFront Park.
Three parks, one destination for outdoor recreation in Omaha
While the RiverFront was founded in 2018, its full vision is finally becoming a reality this year. Three parks — Gene Leahy Mall, Heartland of America Park and Lewis & Clark Landing — combine into one, 72-acre outdoor recreation area that will be fully open to the public later this year.
The park is bordered by 13th Street on the west, the Missouri River on the east, Farnam Street on the south, and Douglas Street on the north. An interactive map of the park reveals many features there for people to enjoy, including:
A plaza, canopies, food trucks and a sculpture garden near 13th Street.
A large green space, an arches playground, restrooms and an outdoor pavilion.
A promenade on 11th Street from Douglas to Farnam Street.
Slides, a cascade fountain and a pond near 10th Street.
A boat cove, a scenic overlook and an amphitheater on the east side of 10th Street.
A green space, parks for large and small dogs and a grove garden near 8th Street.
A promenade, an expansive green space and a picnic terrace in the Heartland of America park.
A skate kiosk, restrooms and a skate ribbon.
A lake overlook, an amphitheater and a boat launch.
A lake playground, a terrace and a riverfront promenade near the Missouri River.
The Farnam pier and the riparian renovation.
A discovery playground and restrooms at Lewis and Clark Landing east of Dodge Street and north of the Gerald R Ford Expressway.
Expansive parking, an arrival plaza and an urban beach.
The Kiewit Luminarium and a riverfront plaza.
Sand volleyball courts, a prairie garden and a riverfront marina.
Visitors will enjoy connecting with family and friends, relaxing and playing in and around these incredible outdoor spaces.
While they will see stunning concerts, performances, playgrounds, benches, swings, slides, statues, greenery and other outdoor recreation features, they won't see the underground wiring, conduit and electrical work that's hidden below the surface, powering all that fun.
Complex underground electrical infrastructure enables intelligent lighting control
Miller Electric provided the underground electrical infrastructure to wire and install an extremely customized, programmable lighting package and intelligent lighting control system throughout the RiverFront Park.
"We provided the power and lighting for everything from the cascading waterfall and the color-changing lights on the performance pavilion to lighting for custom handrails, benches and walkways and state-of-the-art projector towers that display graphics on the Burlington Building and pavilion during performances," says Nathan Waldo, Electrical Project Manager for Miller Electric.
Waldo says some of the most challenging aspects of the project were the number of contractors working in a relatively small space, the fact that the electrical underground installation had to be fully modeled beforehand, the amount of electrical equipment and lighting in architectural structures, and the communication and cooperation challenges inherent to working with specialty subcontractors located on both coasts.
Katie Bassett, Vice President Parks for MECA, praised Miller Electric's leadership and professionalism on the project, saying Miller's excellent communication with the design team, construction team, owner team and suppliers helped keep everyone on the same page and that if an electrical, telecommunications or lighting issue arose at any point, Miller lead the way in communication on issue resolution.
"Miller's excellent communication, customer service and leading the way on complicated installations makes them the premier contractor to work with when it comes to lighting, electrical and telecommunications.  Miller helped keep the Riverfront Revitalization Project on time and on budget through their high level of knowledge and professionalism," Bassett said.
Weather conditions affecting the entirely outdoor work presented its own challenges as well.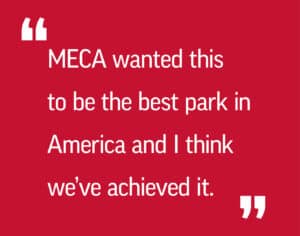 "Everything in the park is custom-made. That required routing power underground before specialty soils were layered on top that prevented future alterations to the power routing. We used BIM software to create the ideal paths and took the lead in sharing those plans with all contractors involved on the project to ensure multiple trades could work effectively around each other without compromising the schedule. Doing that work ahead of time revealed clashes that we were able to resolve before they became issues that affected the project timeline."
Jason Lang, Foreman for Miller Electric, notes an additional challenge — aiming and adjusting color-changing lights at night to ensure they pointed exactly where needed to align with the vision of the lighting designer for the RiverFront park area.
"It was a long undertaking to have a crew in at nights to make sure they were on track with the day crew," Lang says. "The entire park was DMX or 0-10V lighting that provided the capability to change colors or dim down to dark at any time. In all of the different lighting systems I've worked with, this was by far the most unique and complex."
Waldo agrees, saying that while DMX and 0-10V dimming is common in office rooms, he's never seen runs of 1,000 feet plus in an underground environment with elevation changes to accommodate trellises, waterfalls, benches, walkways, playgrounds, swing sets and more.
"MECA wanted this to be the best park in America and I think we've achieved it," Waldo says.
Lang agrees, saying that the park is something all residents should be proud of, but especially those who worked on it. "We remind the crews who worked on it quite a bit that often we aren't able to go into the buildings we've wired once they're complete, but this park is different. They can bring their families to enjoy it with pride knowing they helped make it possible."
Remaining work holds more challenges and opportunities
While the work has been complex and challenging, Miller Electric wouldn't have it any other way. It has increased the knowledge, skills and capabilities of those involved and the remaining work is proving no different.
"Now we're completing work on the Heartland of America Park and Lewis and Clark Landing sections of the RiverFront park and just one of the complexities we're dealing with is a geotechnical clay liner that was installed in the 1980s to separate the old, contaminated soil from the rail yard. We can't pierce it or a major environmental issue will ensue. So, we've had to figure out a way to install the foundational supports for the light poles needed throughout the park," Waldo says.
"Instead of a round drill pole base, we ended up designing square spread footings that are really wide and short to avoid piercing the liner, which is only three feet deep in many areas. The multiple pours are time consuming, but are making the designer's original vision possible, even with the environmental limitations and challenges we're encountering."
Miller Electric's prefab shop helps keep project on pace
Additional challenges are presented in installing 35-foot color-changing metal poles around a figure-eight shaped skate ribbon and a pier overlooking the Missouri River.
Thankfully, Miller's prefab shop is keeping the production and installation of light poles on track with project deadlines.
"We don't have room for laydowns out here, so prefab helps with production and remote storage," Waldo says. "Every week we move material around, planning three to four weeks ahead of time to ensure we're not moving what we need at the last minute."
When the work is done, the park will be a sight to see — and hear — for years to come.
Looking ahead: Bringing rhythm in light and sound to downtown Omaha
Upon completion, Miller Electric and all the trades involved in the difficult but rewarding work on the RiverFront Park project will have something to savor.
"Color-changing lights and speakers will play Christmas music throughout the entire park," Waldo says. "When concerts are held, artists can link their color-changing lights to the rhythm of the music and massive projectors can shine images and video onto the Burlington Building and pavilion during shows and concerts. A video board that wraps around the 10th Street bridge can display advanced images and videos of things like a pond with fish swimming in it. All of it is just so cool and very satisfying."
Looking back, around and forward, Waldo says the whole crew learned much about the complexity of advanced lighting controls and how they can be programmed. That knowledge will be invaluable going forward since that is the future of construction.
"While it was painful at times, gaining that exposure was invaluable. It's something we'll be able to apply to help customers and building owners for the foreseeable future."