Electricity powers the world, but how does it come to life?
For Zach Sands, General Foreman at Miller Electric, the answer lies in coordination. On a crisp Wednesday afternoon, we caught up with Zach to get a glimpse into a day in his shoes. 
Coordination and Collaboration
To someone unfamiliar with electrical work, Zach explains his role as a dance of coordination. He oversees everything on the job site from temporary wiring, job trailers, feeder wires, and lights to the final receptacle. In the grand orchestra of construction, he ensures the electrical infrastructure hits all the right notes. 
At Miller Electric, collaboration is the name of the game. Zach interacts with everyone, from the BIM team to the Safety Director, project managers, accounting staff, and more. It's the collective effort that makes all the work come together seamlessly and finish projects on time, on budget, and to customer expectations.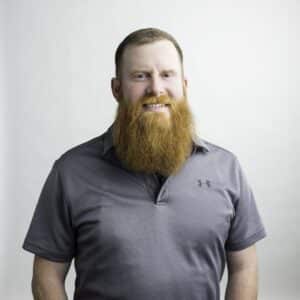 No Day is the Same
Every day is a new adventure for Zach. He could have a day filled with meetings, followed by lending advice on troubleshooting lighting or helping collaborate non-standard rough-ins in the field. The ever-changing nature of his job keeps him engaged and on his toes.  
"This job involves a lot of coordination, teamwork, and creative solutions, but that's what I love about it," Zach says. "I knew college wasn't for me, but the apprenticeship program through Local 22 gave me a way to earn and learn at once. And, it set me up for a very fulfilling career that I wouldn't trade for anything." 
For those who like to think on their feet, solve problems creatively, work with others and manage many moving parts while also working with their hands in an applied science, a career in the commercial electrical contracting industry can be a rewarding journey. 
 Zach's days are filled with a variety of responsibilities, including: 
Coordinating with various teams

 

Planning daily schedules

 

Discussing safety conditions and providing for a safe job site

 

Ordering materials

 

Performing quality assurance walks

 

Keeping the team motivated and in good spirits
He thrives on seeing projects come to life and the sense of accomplishment and pride that comes from seeing a job done right. 
"I love driving around town and seeing all the buildings Miller Electric has had a hand in wiring," he says. "There's just a great deal of pride in knowing you worked with an outstanding team of dedicated craftsmen and professionals to finish a project with excellence and attention to detail." 
The Best Part of the Job
What ignites Zach's passion is the team spirit present at Miller Electric. "We win together. We lose together," he says. "It's remarkable to think that a project as vast as the one we're currently handling requires just 30 electricians. Teamwork and synergy are making it possible to wire a 1 million sq. ft. building." 
Speaking of their current project, it's a unique one.  
With a journey that began in September 2019 and is expected to continue for another 24 months, it's been an extraordinary undertaking. The extended timeline is the result of a cascade of challenges, from the pandemic to ongoing design changes. At times, the site sat empty for up to 8 months, but the team's resilience kept them going.  
Journey to Miller Electric
Zach's journey to Miller Electric began when he realized that traditional college wasn't the path for him. Inspired by a friend's recommendation, he applied for the apprenticeship program.  
Over the years, he progressed from an apprentice to a journeyman wireman, then foreman and eventually, general foreman.  
He started managing small projects like Corkscrew Wine and Cheese, which was a custom job with a small team and close collaboration with the owner. Each project saw him progress in scope and responsibility.  
Projects like Valmont, with its high-end custom finishes, and Veridian Credit Union, which involved standing up five locations, were just a few Zach has managed during his time with Miller Electric. 
What Makes Miller Electric Special?
For Zach, Miller Electric stands out because they genuinely live by their principles.  
"Our commitment to doing the right thing and having each other's backs isn't just lip service; it's the foundation of the company. The 'Millerisms' we follow are the reason we are still in business, going strong, after more than 110 years." 
For anyone considering a future in the electrical industry, Zach's story is a shining example of what's possible when you choose a path that's both electrifying and fulfilling.